---
Serving areas : Cheektowaga, Tonawanda, Kenmore, Lancaster, Depew, West Seneca, Williamsville, Clarence, Amherst, East Amherst, Getzville, Snyder, Orchard Park, Elma,Alden, East Aurora. 


Is it time to replace your heating and cooling system?
Looking to replace your heating system or need supplemental heating and cooling for a specific area or room in your home? Don't currently have an air conditioning system to keep your home cool during the warmer months? Cold-climate air source heat pumps are an efficient, cleaner energy option that keep you comfortable year-round, while potentially saving you money. An air source heat pump may be a better choice, with energy efficient operations delivering more energy than they use.
Air sours heat pump basics 
A heat pump is a super-efficient, economical, and environmentally-friendly way to heat and cool your home for year-round comfort. Heat pumps run on electricity, but their extreme high efficiency makes them affordable to operate. The cost to heat a house with a heat pump is lower than oil, propane or electric baseboard; in some cases, much lower. Cost is roughly on par with gas heat: depending on electric and gas prices in your area, it may be a bit more or less than gas.

High-performance heat pumps save on cooling too: their efficiency is typically more than double that of window units, and substantially more efficient than standard central AC systems. If you're thinking about adding central AC or exploring what to do when your heating system needs replacing, or if you're renovating an old house or building a new one, a cold climate heat pump may be the best choice. Properly designed and installed, heat pumps are affordable to operate, highly comfortable, and easy on the environment. In many areas, rebates, incentives and/or favorable loan programs¹ can help pay for the installation – free money, and in some cases additional technical support, when you decide to buy a heat pump
How Do Heat Pumps Work ?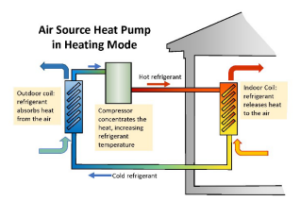 A heat pump works by harvesting heat energy. Believe it or not, everything that is warmer than outer space has heat energy in it, and heat pumps are able to push that energy into or out of your home. Even when it's below zero, there's still heat in the air. A heat pump effectively extracts heat from the cold outdoors, concentrates it, and delivers it inside to keep you comfortable all winter. According to the laws of physics, a lot less energy is required to move heat than to create it. A heat pump might look like a typical air conditioner. It is actually an air conditioner that's designed to operate in either direction, so it can heat or cool a house as needed. Another big difference from a typical AC is that advanced air source heat pumps are "variable capacity," which means the motors and fans can speed up or slow down to provide just the right amount of heating or cooling without constant turning on and off. They are also quieter than most air conditioners and furnaces. Some people think that heat pumps just don't work below freezing, but modern technology has improved performance dramatically. Many of today's cold-climate models produce plenty of heat down to outdoor temperatures of 5, -5, or even -15 degrees Fahrenheit.
New York Clean Heat Program Rebates !
New York State is trying to get away from fossil fuels. Less emissions into the air. There is allot of changes that are happening right now. In 2022 all new construction must be fossil fuel free. The heat pump technology is here and New York is give big rebate to home owners to switch to heat pump technology. If you're replacing your heating and cooling system. For  just a little more investment you can make the switch and do your part to save the planet from global warming. 
Full house load rebates $1,000 btus per 10,000 btus
Full house load with decommissioning $1,400 per 10,000 btus 
(example on project below)

Full load with decommissioning                                                              House at 2,600sq Heat Load 68,000 btus
Installed Greeflexx48 outdoor unit on right of pic and gree mini split system on left, wall unit was mounted in the front room of downstairs.
Rebate amount $9,700
Federal Tax credit $2,000
Total rebate amount $11,700
Click Link Below and Learn more about Heat pumps